It was an interesting Twitter experience for me when an innocent tweet got picked up by a rep from Globe Telecom. I thought it was nice (cute, even) at the beginning until it started becoming ridiculous.
This was the tweet that started everything (click on the date links to see full threads):
Happy with the speed of Globe's non-LTE prepaid SIM. Seems consistent here in old Pasig and Ortigas CBD. Connection resets per 30min though.

— Nono (@noel_acosta) September 9, 2013
And this was me right after the initial exchange:
It's kinda nice that a rep from Globe picked up my innocent tweet about their data service. Here's hoping Smart will do the same later. 😉

— Nono (@noel_acosta) September 9, 2013
It became stupid after that. Especially when they started giving their troubleshooting advice in private. (NOTE: I just noticed I gave them the wrong date. Harhar. Should be 9/8/2013.)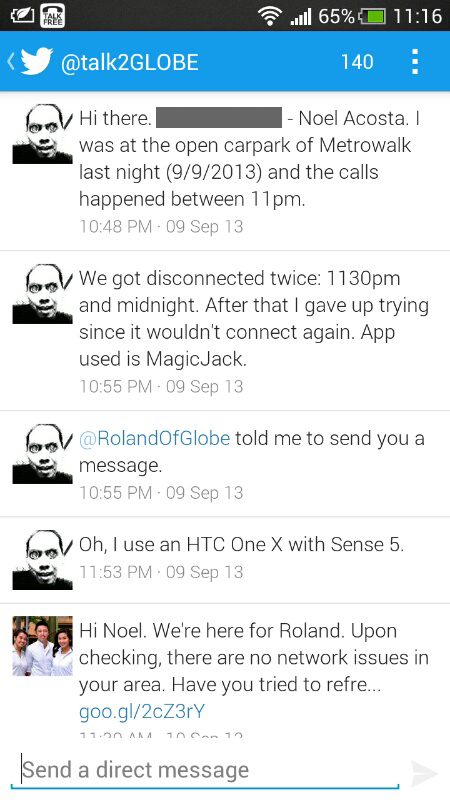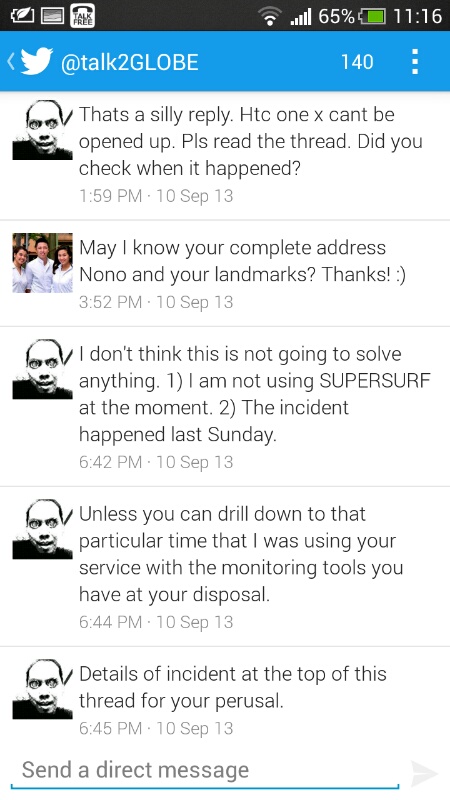 So I've been posting sarcastic tweets:
Dear telco rep. Are you daft? Take out the battery of the htc one x? Remove and replace sim card? Dont treat me like an idiot.

— Nono (@noel_acosta) September 10, 2013
Sorry, Globe. But please ask your reps to think before they make troubleshooting advice. Unless you prefer them sounding like idiots.

— Nono (@noel_acosta) September 10, 2013
Unfortunately, they won't stop:
@noel_acosta I saw your DMs Nono. Please let me help you out here 🙂 When you experienced this, were you able to… http://t.co/8nJ8Ba5D0Y

— Ken of Globe (@KenOfGlobe) September 10, 2013
This is really becoming stupid so I don't think I will be fueling this exchange anymore.